---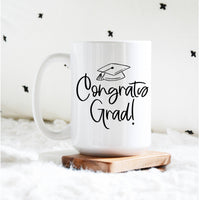 A great gift for any graduate!  Fill the mug with candy, a gift card, coffee pods & more or pair with their favorite coffee, tea, or cocoa!

15oz ceramic mug. Microwave & Dishwasher safe.
Designs are printed onto the surface of the mug, and will not fade, crack, or peel.