---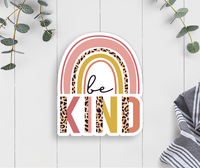 Be Kind to everyone, everyday!  Place this sticker in a prominent place as a daily reminder. These dual-layer vinyl stickers are waterproof and great for things such as car windows, tumblers, laptops phone cases and more!
𝐂𝐚𝐫𝐞 𝐈𝐧𝐬𝐭𝐫𝐮𝐜𝐭𝐢𝐨𝐧𝐬 Hand wash, do not place in dishwasher.
This sticker is 3" (largest dimension width/height).   Matte Finish.