---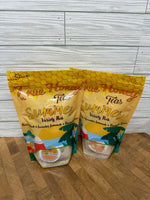 True Honey Teas Summer Variety Pack is a sampler featuring Peach Black Tea, Lavender Lemonade Herbal Tea, and Pineapple Green Tea.  


Peach Black Tea is a blend of organic peach juice, organic Black Assam tea and honey granules   The result is exquisitely smooth, healthy and refreshing iced or hot tea   

Lavender Lemonade is our most popular flavor that brilliantly balances lavender from France, lemon myrtle from Australia, a little bit of hibiscus, with honey granules! Lemon myrtle has immense health benefits and our blend is quite exquisite, delicious, calming. Enjoy each healthy cup - iced or hot - relaxing for mind, body and spirit. Naturally caffeine free. Herbal - No Caffeine 
Pineapple Green Tea is a tropical holiday for your taste buds! Sweet organic pineapple juice complements Young Hyson Green Tea and honey granules.  Delicious hot or cold!